We love it when couples choose a fun and unique wedding venue for a truly one-of-a-kind event! Lauren and Pat wanted their day to be fun, casual, and unique..and their New England Aquarium wedding was all that and more.
Both Lauren and Pat got ready at a boutique hotel just minutes from Faneuil Hall Marketplace, Christopher Columbus Park and the New England Aquarium. Once everyone was dressed and ready, the guys left first and then the ladies followed a few moments later en route to the first look. It was surprisingly not too crowded under the large archway at Christopher Columbus Park, that's where Lauren and Pat saw each other for the first time in their wedding attire.
Boston weddings are so fun because we usually have lots of time to stroll through the city taking photos along the way and this day was no different. We worked our way along the water until we reached the aquarium where the ceremony and reception would be. It was insanely difficult to narrow down the photos for this post because there were so many that conveyed how happy and excited everyone was to be there!
Once we arrived at the aquarium, we made our way up to the top of the tank for the ceremony. This is the first ceremony for us where it was right at the top and it was incredible. Lauren and Pat chose blue up lighting and white down lights to light their ceremony and it worked so well with all the aquarium tanks surrounding us.
Lauren and Pat got most of their photos done earlier in the day, so they were free to mingle and enjoy cocktail hour with their guests. The reception was being set up downstairs while everyone strolled around the different levels of the giant ocean tank taking in the exhibits and watching the fish zoom by.
We hope you like this little peek into their day.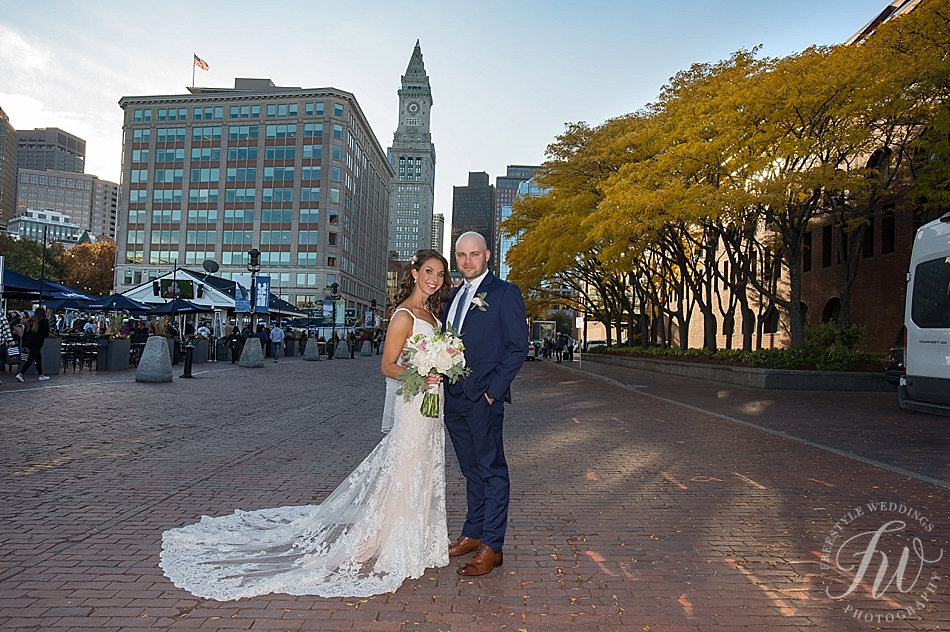 This New England Aquarium Wedding was photographed by Jen and Dick Smith of Freestyle Weddings.  Freestyle Weddings is located in Danvers, MA and we photograph weddings and events all throughout New England.
If you're recently engaged and would like to chat, please email us at jennifer@freestyleweddings.com or just use this link: