Connie and Sam's Intimate Boston Winter Wedding at The Hampshire House
Welcome to our first wedding of 2018!!
We first chatted with Connie and Sam last year when they were planning their intimate Boston wedding. They live in NYC, and they were trying to do most of their planning by phone and over the internet. They decided to bring Marrero Events on board to help them with the seemingly endless amount of details to get done, and from that point forward, the planning came together beautifully! A good wedding planner is worth their weight in gold.
This winter was one of the coldest I can remember. With so many days in a row of sub-zero temperatures, I was a little concerned about our upcoming wedding in Boston. Connie and Sam absolutely were determined to be outside at the Boston Public Garden for their first look and couple portraits. I was not going to let them down, and armed with several sets of "hot hands" and hats, gloves, scarves and boots..we headed outside for our first look and walk across the garden to their venue - the beautiful Hampshire House.
For this wedding, my other half and partner in crime was not able to attend (he had the worst case of the flu poor guy). The talented Linda Jennings from Photography by Linda came along as my second photographer for the day. We made a great team and had a lot of fun :)
I hope you love the little glimpse into Connie and Sam's wedding day <3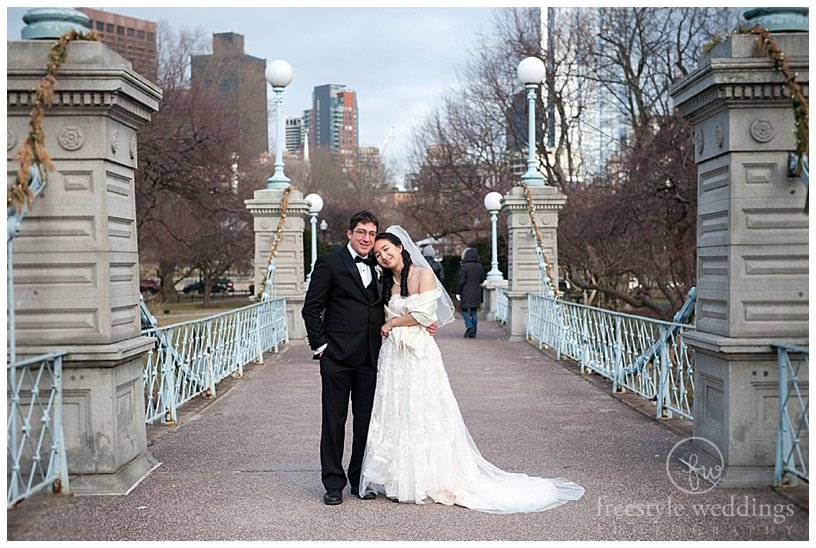 North of Boston wedding photographers Freestyle Weddings covers elegant weddings throughout New England.  Planning your New England wedding? 
Send us a message and lets discuss the possibilities!