Emily and Kevin, Willowdale Estate Winter Wedding, Topsfield MA
Emily found us through a friend who's wedding we photographed the prior year. Referrals from clients are our number one source for new work and we appreciate them so very much. This former client (hi Tiffany!) is also a very talented gluten free baker and she made one of the cakes for Emily and Kevin's wedding.
This wedding was to be our last of the 2019 season and it was lovely. The end of November brings with it chilly, crisp air and the festivities of Thanksgiving. Willowdale decorates the whole estate for the season. There are lots of nooks and crannies, where they put candles, twinkle lights and lots of sparkly and festive decor. All the rooms smelled like Christmas with all of the fresh greenery placed throughout.
Both Emily and Kevin opted to get ready at the estate. That's always a great decision since everything isn't rushed when it's all on site. We had lots of time to capture everyone mingling and enjoying on the snacks provided as well as having some champagne! There was to be no first look and the first time they would see each other would be as Emily walked up the aisle..it was very romantic.
The ceremony was lit by twinkle lights and candles and was in the conservatory. After the ceremony, we headed right into large family group photos while the room was transformed into the beautiful reception. This particular day was the coldest of the season up to that point. We didn't have snow, but we had 30 mph wind gusts and temperatures were in the single digits…needless to say, we went outside for 20 seconds, long enough to capture two portraits of Emily and Kevin in front of the estate. It was absolutely worth it though :)
It always such a pleasure to photograph weddings at Willowdale Estate and this one was as well.
Please enjoy this little preview into their wedding day!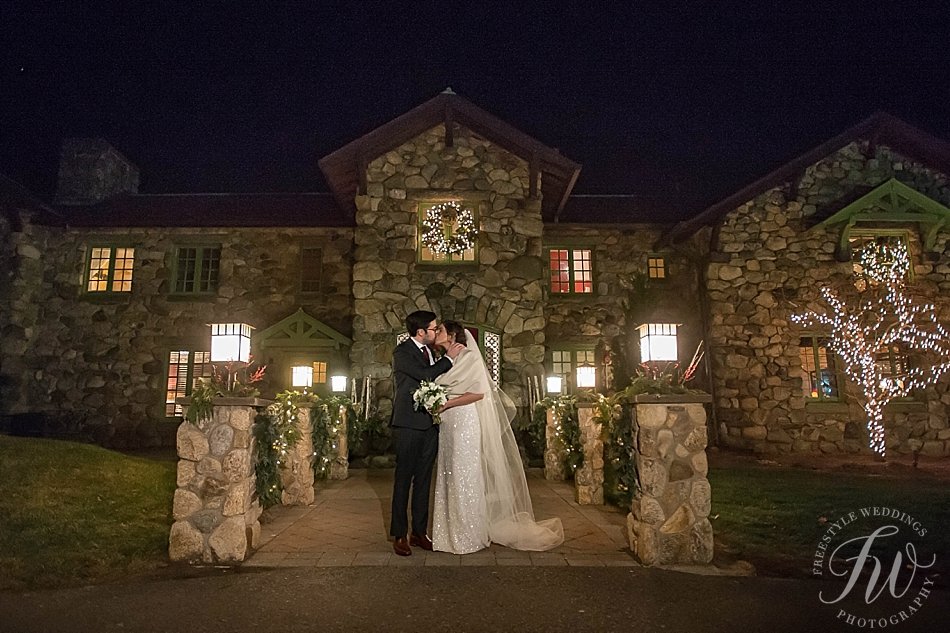 North of Boston wedding photographers Freestyle Weddings capture weddings throughout New England. 
Planning your New England wedding? 
Send us a message and lets discuss the possibilities!
Contact Us