Jennifer and Shawn's Fall Wedding at Groveland Fairways
A few years ago, we photographed Jessica and Greg's Kennebunkport wedding at the Nonantum Resort. It was such a fun wedding and we loved getting to know both Jess and Greg's families. Fast forward - Jess's sister Jennifer called us and asked us to be her wedding photographers since she just got engaged!! This is such a huge compliment when families keep coming back to us.
Jen and Shawn got engaged at Pickering Wharf in Salem, MA. We thought it would be the perfect spot for their engagement session (we were right, haha). Engagement sessions are such a perfect way to connect with our clients. We get to chat about the wedding and how their planning is going and get a general sense of what they like (and don't like). It also gives them the chance to be in front of our cameras before the big day..without all the wedding day pressure.
November rolled around, and it was time for the wedding. It was a chilly day, but that didn't make any difference at all. Jen and Shawn chose to have their ceremony indoors in front of the cozy fireplace at Groveland Fairways. It was warm and beautiful.
If you haven't been to Groveland Fairways, it's a lovely venue. In the spring and summer, there are various spots on the property to take photos. When the weather is uncooperative, the huge covered porch is a wonderful spot for fun bridal party shots. Liz is the coordinator at Groveland Fairways and as always, she was sweet, organized and an absolute pleasure to work with.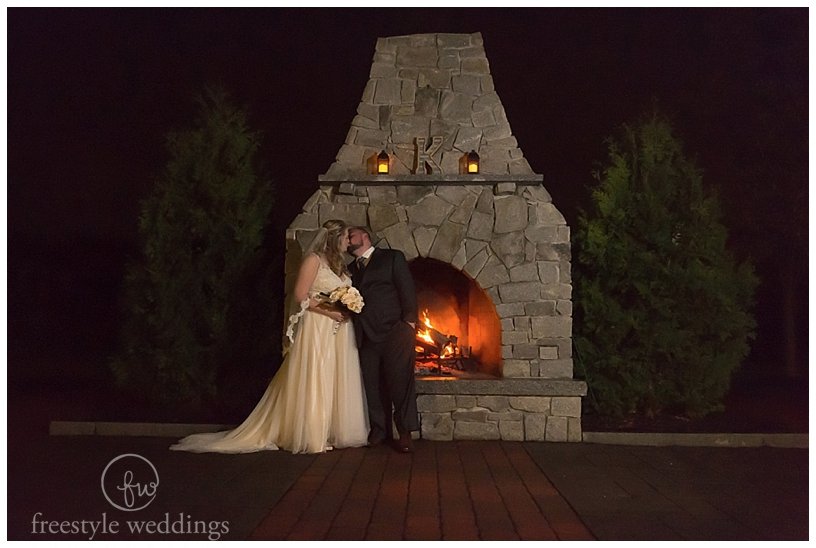 North of Boston wedding photographers Freestyle Weddings covers elegant weddings throughout New England.  Planning your New England wedding? 
Send us a message and lets discuss the possibilities!