Featured on our blog today is the gorgeous Castle in the Clouds wedding of Liz and Brian!
If you've never been to Castle in the Clouds in Moultonborough, New Hampshire, do yourself a favor and go visit..it's stunning. The architecture of the museum and main buildings and 180-degree views of Lake Winnipesaukee make for a one of a kind ceremony location in the clouds.
The ceremony was held in the Lucknow Gardens. Yes, it rained.  But it didn't matter at all.  There were plenty of umbrellas to go around and it was a lovely ceremony
The reception was held in the Winnipesaukee Room. It was beautifully decorated and looked incredible.  Both Liz and Brian are huge Red Sox fans..so of course Liz arranged for Wally the Monster to stop in for a visit.  Look at Brian's expression - he had no idea :)
Liz had the most gorgeous traditional Vietnamese wedding dress to change into for her reception.  Liz envisioned romantic sunset photos in her red dress, but the weather made that impossible..instead we ended up scheduling a mini session on a different day so we could capture it for them. 
We were honored to capture their beautiful day, the beginning of a new and exciting chapter in their lives.
Our day was made easier because Liz and Brian chose the best vendors - thank you to each and everyone for being so easy to work with and so very talented!
Ceremony Music - Blackstone Valley String Quartet
Catering - Red Blazer Catering
Florals - Holly, Naturally Elegant Designs
Cake - Dan Liberatore, Master Pieces Cake Art
Photography - Freestyle Weddings
Video - Zachary Greaton, Timeless Media
Wedding Planner - Jennifer Matthews, Memorable Moments
Venue Coordinator - Jessica Raymond, Castle in the Clouds
Wedding Dress - Marry Tux & Bridal
Wedding Shoes- Betsey Johnson
Reception dresses - Ao Dai Vancouver & BHLDN
Hair and make up - Common Man Inn & Spa Plymouth
DJ - Matt P - DJ Petro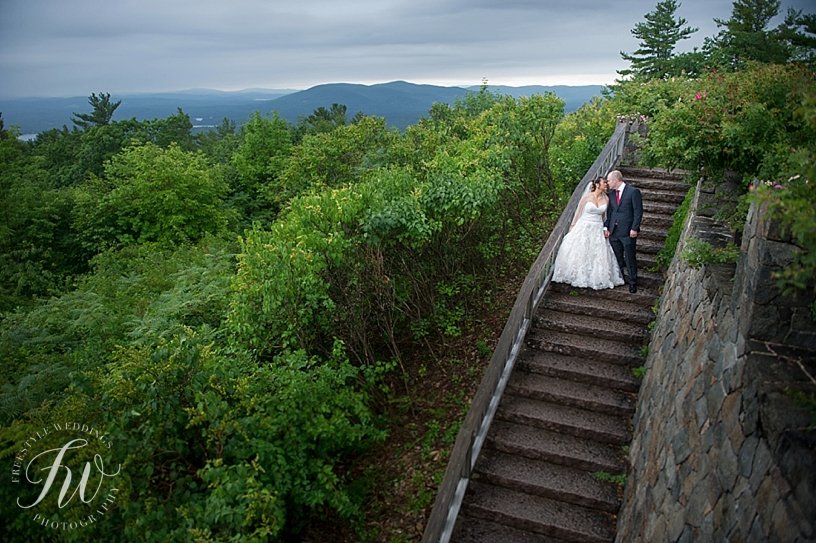 Are you planning your wedding at Castle in the Clouds? Get in touch and we can chat about the possibilities :)
jennifer@freestyleweddings.com